JROTC Creating tomorrow's leaders today
"To motivate young people to be better citizens" is the mission statement of the Junior Officers Training Corps (JROTC), and is the main reason why students join this organization. 
Common questions about the JROTC are normally: "What is it?'' and  "What do students do in it?'' 
"In a lot of classes, we learn about the Army; their ranking structure, what they wear, and how the Army has impacted the United States," explained Mary Rains. The junior went on to say, "Other days we have physical training where we do stretching, running, and conditioning."
Rains described how the class is great for people who are "trying to push themselves" or "discover themselves". Rains, a member of the Cross Country team, finds that the intense nature of the organization is perfect for her.
"Both activities are definitely challenging but I like how JROTC teaches me leadership and is physically challenging at the same time," said Rains. "It is a really fun class. I am able to challenge and physically learn a lot about myself as a person, I really like it," stated Rains, who hopes to attend the Air Force Academy.
The JROTC operates in over 1700 public, private, and military schools. Students are taught lessons in geography, US history, government, communication, fitness, first aid, health, wellness and responsibility. Members looking to do additional activities participate in Raider Challenge competitions, JROTC Leadership and Academic Bowl (JLAB), science, technology, engineering, math and physical fitness competitions and JROTC Cadet Leadership Challenge (JCLC).
"A lot of people don't understand that what we do is build citizens,'' explained Lieutenant Colonel Duplechien, Senior JROTC Army Instructor, "We are actually not trying to recruit any of these kids. I believe that the military services are good for anyone that wants to do it."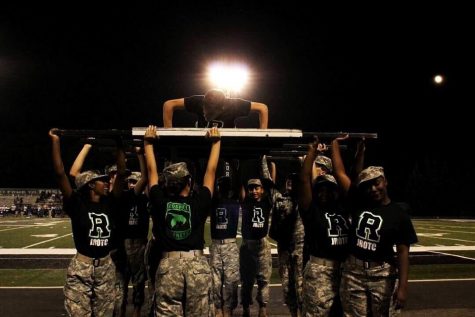 Lieutenant Colonel Duplechien is retired from the army and is in his fourth year working with the organization at Roswell. His main goal is to teach students "accountability and responsibility".  "Kids have to be held responsible and learn how to do things for themselves, which is one of the big things we try to foster in this program. We build leaders," said Lieutenant Colonel Duplechien.
"Step out of your comfort zone. Comfort zones, where your unrealized dreams are buried, are the enemies of achievement. Leadership begins when you step outside of your comfort zone."
For more information visit:
https://roswellhornetsjrotc.weebly.com/
http://www.usarmyjrotc.com/index.php