The Scoop Behind Red (Taylors Version)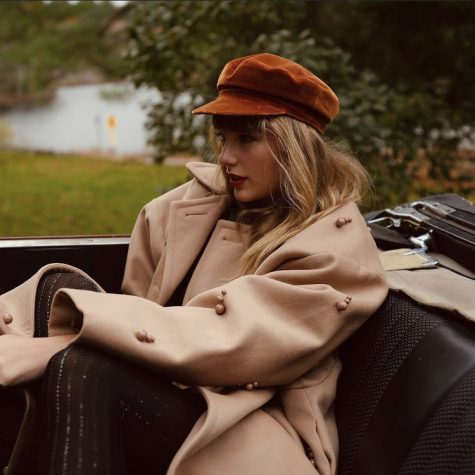 Wanting to own her music again, Taylor Swift began to renew her old albums with her debut "Fearless (Taylor's Version)" in April. Only eight months later, Swift released "Red (Taylors Version)" on November 12th. With 30 tracks on the album, Swift had broken Spotify's record for the most-streamed album by a female artist in one day.  
Taylors fanbase has been going insane over the release of Red (Taylors Version). So crazy that Swift's fans made it clear that her song, "All Too Well," was their favorite; she listened and included a ten-minute version of "All Too Well" at the end of the track list. It reached number one on Spotify the day it was released, faster than any other.  
Swift added brand-new songs to the album, which she calls" from the vault," featuring collaborations with other hit artists like Phoebe Bridgers and Chris Stapleton. The original album included a song titled "Everything Has Changed" featuring Ed Sheeran; she reached out to Ed, and they redid the song for Taylors Version and incorporated a brand new duet titled "Run."  
Included with the ten-minute version of "All Too Well," Taylor directed a short film for the song featuring Dylan O'Brien and Sadie Sink. The fifteen-minute film revolves around the relationship Swift had with actor Jake Gyllenhaal back in 2010. Fans were quick to solve the mysteries behind their short fling, and Gyllenhaal is now receiving more backlash over the internet than any celebrity. In the song, Taylor sings about a scarf she had left behind at his sister's house on vacation; "And I, left my scarf there at your sister's house and you've still got it in your drawer even now." Taylors fans think the scarf symbolizes something even more significant, but there is photo evidence of an actual scarf.  
Starting her singing career at a young age, Swift is famous for writing breakup songs from high school. In 2010, Taylor Swift dated actor Jake Gyllenhaal for only about three months, but it wasn't the most fabulous fling. The desire for breakup songs continued; The original version of Red was released in 2012, hinting at their relationship. Fans have connected easter eggs in her old version and the new version of Red, and now Jake Gyllenhaal has become a sensitive topic once again to Swift's fans. 
Drew's review: 
Being a Taylor Swift fan since I was super tiny, I got so excited when I heard she would be re-releasing her old music that I grew up playing in my room; Red will always be my all-time favorite Taylor album. I got to experience her Red tour in 2013 with my dad in Nashville, so it was even more special since I had seen her play these songs live. Her new version of Red captured her relationship with Jake Gyllenhaal better and told a story I loved. Taylor maturing and re-releasing her old music improves the way you can process the story she is trying to tell; that's what I love the most about Swift reliving her old music. Overall, I give Red (Taylors Version) a 10/10 and cannot wait for her to re-release older albums.  
Jessie's review: 
Taylor Swift has always had a special place in my heart. Her music has always had me in awe. Not only has her music always been catchy and appealing to her audience, but it always tells the story of Taylor swift. The narrative she wants us to think of her, because of her silence in her personal life, gives the mystery of who her songs are about, which has led many swifties down rabbit holes of her relationships like Jake Gyllenhaal and John Mayer. The Red album is one of my favorite albums, and her version of it did not disappoint. Her performance added more detail into the hurt and pain she was going through at the time and gave us that extra glimpse into her life that we don't usually get. Most noticeably with her new "All too well (10 minute version)" gives swifties that extra storytelling of her past relationships.