Cooking with Gabby: healthy air fried chicken nuggets
My family recently purchased an Oster Airfryer Toaster oven over winter break. We have tried so many different things in the airfryer and I will definitely share everything we've made. 
A very popular meal we've made several times is air fried chicken nuggets and air fried green beans. 
To make green beans, toss the green beans in olive oil and salt. Set the air fryer to air fry at 400 degrees for ten to fifteen minutes depending on how cooked you like them. 
To make the chicken nuggets, cut the raw chicken into pieces small enough to fit in the air frying basket. Then, put the chicken pieces in a bowl with raw egg whites or a whisked egg. Then, take the chicken pieces out of the bowl and coat it in panko breadcrumbs and parmesan cheese. I use the panko because it is a healthier option, but flour can work, too. 
Then, place your chicken in the air frying basket and set it to air fry at 400 degrees for ten to fifteen minutes. After ten to fifteen minutes, make sure the internal temperature of the chicken is at least 180 degrees. If not, set for a few more minutes depending on its temperature.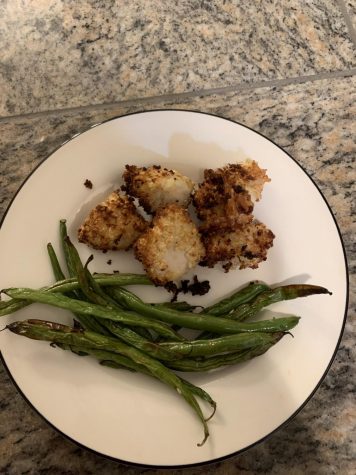 I hope you enjoy your air fried chicken and green beans. More recipes to come!