"Retro bowl" Review and Rating 
The NFL season has officially kicked into full gear and fans are doing whatever they can to run alongside the train. Some fans participate in the viral phenomenon known as fantasy football to be as close to the game as possible. Others have been playing the extremely popular mobile game Retro Bowl.  
Despite coming out almost 2 years ago, Retro Bowl has been trending more than ever and has risen to the number one in the sports category of the app store and is showing no signs of  app TikTok. Videos of famous NFL football plays recreated in Retro Bowl have been viewed over 27.9 million times on Tik Tok alone.  
Recent trends of Google search patterns indicate Retro Bowl is at its peak popularity since release.
 The game itself has a very simple art style and design but goes into surprising depth and playability for a mobile game. You play as the general manager of any NFL team of your choosing, albeit with slightly more trademark-safe names. You can draft 12 players who you take control of on the field including a quarterback, running back, offensive line, defensive line, kicker, and wide receivers. The game gives you command of your team during offensive drives, and you have a variety of options during a play. Running, passing, scrambling the football, calling timeouts, kicking field goals, and juking out defenders are some of the countless ways Retro Bowl brings you a handheld football experience like no other.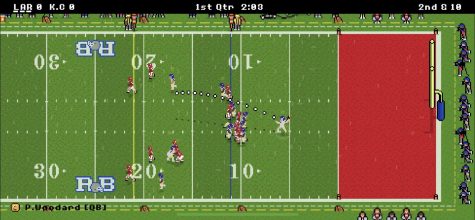 My personal rating for Retro Bowl would be a 4.7/5 stars, a near perfect game for me. The only problem that sticks out to me is the difficulty settings being either too hard or too easy. My personal work around would be to start off as easy as possible and work your way up through the difficulty. Regardless of any flaws the game might have, it truly is a classic among the greats. Try it for free today on the app store.