Review of DC Fandome
On Oct. 16 DC fans around the world checked into the DC Fandome. The superhero filled event consisted of trailers for new movies, shows, and even video games all DC! Tons of stars even got their own panels such as the Rock, Grant Gustin, and Robert Pattinson. The event lasted three hours and was free for all. This was my second-year tuning into the event. Since I'm a massive fan of everything DC, I watched all three hours and wasn't disappointed. Compared to last year, this year's Fandome was out of this world and I'm not sure it will ever be topped.
Although 2020's Fandome wasn't bad, DC managed to give the fans everything they wanted. Here were my favorite things that came from this year's Fandome. Coming in at number one was The Batman trailer. Only a teaser was revealed last year but this time, an official trailer was released. The trailer was under three minutes and kept me on the edge of my seat the entire time. Also, the cast looks fantastic, consisting of some famous actors such as Andy Serkis, Robert Pattinson, Zoe Kravitz, and Paul Dano. Next was the Flash teaser trailer. Since the beginning of time, the Flash has been my favorite superhero. After watching the teaser, this movie could rank inside the top five for superhero movies in 2022. Within the movie, there will be two Batmans. Michael Keaton's version and Ben Affleck's. Not only is this the Flash's first live action film, but this will be the first DC movie to have two Batmans! I expect this film to be absolute greatness and nothing else. The last big takeaway was the teaser trailer for Black Adam. This is the Rock's first film in the DC universe. The film looks super promising and could potentially be rated R. The Rock has never played a super villain before so hopefully he prospers in the role.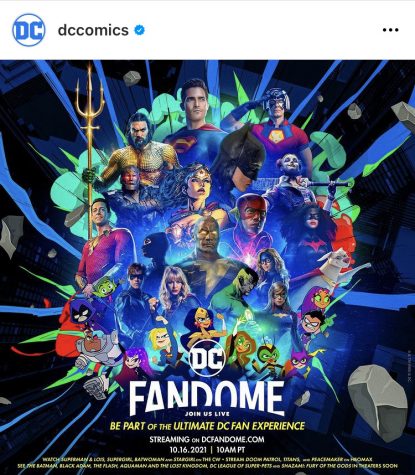 Overall, DC Fandome 2021 was an absolute 10/10. Everything I wanted to see was shown and I can't wait to see all the movies coming out next year. I plan to tune in next year as well and can't wait for all the new DC announcements and for the entire DC community to be amazed once again. If you couldn't watch the global event this year, click here to watch.