Unification of RHS students through Atlanta United
Fiona Mc, Staff writer
December 14, 2018
Hang on for a minute...we're trying to find some more stories you might like.

Atlanta United is a MLS soccer team that was formed in 2017. While walking to the Mercedes Benz, stadium it is apparent that there is a large amount of passion and support associated with the team. In the stadium loud cheers echo, flags wave in the air and phone flashlights illuminate the building. Considering that there is a large amount of adoration associated with the team in Atlanta, it is not shocking that there is a sense of unification with the fans within Roswell High School.
On Sunday, Nov. 25 Atlanta faced the New York Red Bulls. Atlanta United dominated with a final score of three to zero. This is only one of many successes for the Atlanta United team. This season the team has won a total of 25 games and has tied seven games. Both Josef Martinez and Miguel Almiron have been chosen a MLS best XI. These successes can explain the abounding support from local areas around Atlanta. For example, there are many Atlanta United fans in Roswell.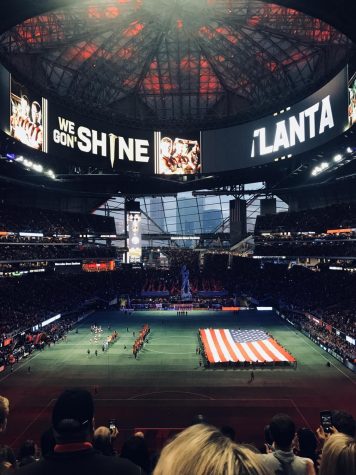 Junior Sienna Kent has been a fan of Atlanta United for around two years. She explained that at the games the fans commotion at games "creates a fun environment". She thinks that the support associated with the team has "created new bonds" with students in Roswell High School.
One way that students show their support for Atlanta United is through their clothing attire. "I have seen people wearing t-shirts," said Sienna. It as apparent that Roswell is a large soccer community, which can be shown by the recurring red, black and gold scattered around the town's atmosphere.
Overall, Atlanta United is a popular soccer team that has many fans. The support started in Atlanta and then instantaneously flooded to many surrounding soccer communities. Next time, when walking through the halls before a big game, watch for the signature red, black and gold.