Hornets Finish off with a Winning 9-1 Record 
   The regular season of Roswell's varsity football season has come to an end. The boys ended their season with a big win over Alpharetta High School.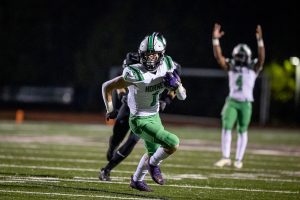 Senior Ethan Crite says "I feel like Alpharetta truly tested the team as a whole to see who wants it and what type of team we are." The Hornets had a great run this season ending with a 9-1 overall record and a 6-0 region record.  
   The boys started off their season with their first win over Denmark High School right here in the Nest. This was an important game for the Hornets as it was their first game back without former quarterback Robbie Roper. They played well and came out with a win of 35-10. 
   Following this game, the Hornets took another easy win over Centennial High school with a final score of 35-14 at home. The boys had a great start to their season but had a tougher ride ahead of them. 
   The next game for the Hornets was huge. They played Marietta High School in Blue Devil territory. Luckily the boys played their best and kept it close the whole game. Roswell took home a big win of 24-20 continuing their undefeated record. This was also a huge game for some specific players including Senior middle linebacker and running back Jayven Hall with a pick six.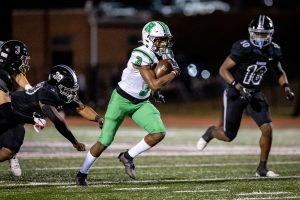 Unfortunately, the Hornets did have a downfall with their one loss this season against rival school, the Milton Eagles. It was a tight game with each team playing their hardest but the Hornets couldn't get back up. The final score was 14-7. 
   The boys did make a big comeback back in the nest against Johns Creek High School. This was a huge blowout with the final score as 56-13. This was also an important game as this was the first region game of the season giving the Hornets a 1-0 starting region record. 
   The Hornets continued their winning streak with another great game against Roswell's neighbors Blessed Trinity High School. This was predicted to be a close and good game but the Hornet's crushed all those predictions blowing out the Titans 41-10 and bringing up another region win. 
   Over the next few weeks, the Hornets traveled to Lassiter High School for their homecoming game, bringing home yet another win not even letting the Trojans up on the board, 58-0. Then the boys went on over to Pope High School for yet another homecoming. Once again, the Hornets walked away with a big win, 56-3. Each of these were region games bringing their region record 4-0.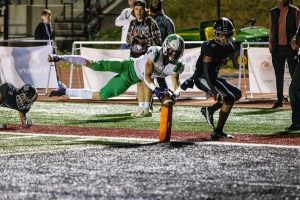 The boys had their last home game of the season on October 21 against Sprayberry High School. Continuing their big winning streak with only allowing one touchdown from the Jackets, the Hornets had a 49-7 win. 
   The Hornets traveled to Alpharetta High School for the region championship and the last game of their regular season. It was a tight first half, but the boys came back to win the title with a final score of 38-21. This cemented the Roswell Hornets advance to the first round of playoffs. 
   The boys finished their season with a winning overall record and an undefeated region record.  
   Sophomore defensive tackle Kobby Sakyi explained, "The team has worked together very well this whole season and we motivate each other to keep going and not give up." He says that this is what has helped these Hornets make this season so successful. 
    The Hornets are now heading into playoff season with a tough schedule ahead of them. Crite says that going into playoffs the biggest goal here is, "The big championship win for team 73 and more importantly Robbie #5."