Flag Football Dominates Its Second Year
The girls' varsity flag football team concluded their season in the quarterfinals. They played Allatoona High School where they unfortunately lost the very close game 13-6. According to Head Coach Emily Hoza, the key to getting so far in playoffs was "the drive to win."
The varsity team had an overall record of 12-6, going 6-1 in the region. Selected by their teammates, the senior captains this year were Katie Northenor and Reghan Lednik. These two girls had many goals to help this season be a successful one, motivated by this being the last season of their senior year.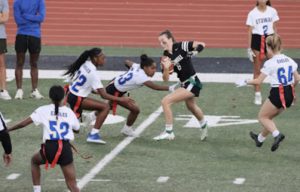 The season started off strong taking home three wins, but the girls suffered their first region loss against Blessed Trinity Catholic High School in a difficult game 13-0. 
Senior Reghan Lednik explained that hard work is needed every single day: "I hope to bleed my goals onto the rest of the team and preach that what we want is attainable if we do the work on and off the field." Because it is only the second season of Flag Football here at RHS, she says that she hopes to make this season as one others can look up to later because of the accomplishments they make.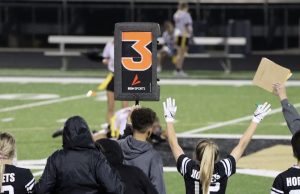 Senior Katie Northenor also says her goals are to bring the team together to make it a strong supportive group and to help the team stay focused on the goals made for the season.
These girls' determination really showed in a tight game against River Ridge High School. This game went into overtime, but they were able to take home the win 13-7. 
 Hoza was the one that brought flag football to Roswell and laid down all the standards just last year.   Coach Hoza says, "The girls are scholars, driven, competitive, compassionate, and have the biggest hearts." With this the team will be losing a lot of girls next season. There were a total of 16 seniors this year.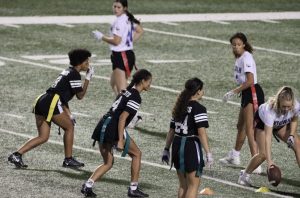 Hoza continued: "I designed our jerseys, organized a booster club, recruited girls within RHS to play, made a schedule, worked with the Atlanta Falcons with multiple events and the list goes on and on. It's been the best experience she has had at Roswell." 
There is so much more to come with this program and Hoza plans on setting the goals for next year to be getting one step further than this year.