UGA Goes Back-To-Back Breaking New Records
On December 31, 2022, the ball dropped at midnight celebrating the new year. This is also when Ohio State University (OSU) kicker Noah Ruggles missed a 50-yeard field goal in the semi-finals of the college football playoffs (CFP) against The University of Georgia (UGA). With that being the last chance for OSU to win the game, that kick led the Georgia Bulldogs to the National Championship for the second year in a row.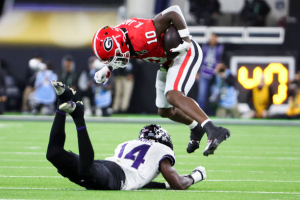 On the other side of the CFB semi-finals, Michigan University and Texas Christian University (TCU) went head-to-head only a few hours before. In another very tight game, TCU took down Michigan 51-42, sending them to the National Championship as well.
On January 9, 2023, TCU and UGA faced off in the CFP National Championship in Los Angeles, California. This was also a huge game for both teams considering each of their quarterbacks were Heisman Award finalists with TCU's Max Duggan coming in 2nd and UGA's Stetson Bennett IV coming in 4th.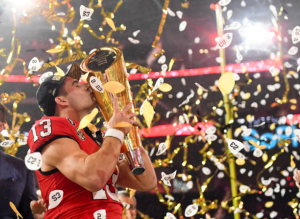 This game is one to go down in history as record breaking. The pressure from UGA's defense seemed to be too much for Duggan and his offense only letting TCU score once. This led the Bulldogs to another National title win and according to Mrs. Garza this was well deserved because they "worked really hard at it."
Georgia beat the horned frogs 65-7. The bulldogs have not only accomplished being the consistent number one team in college football, but also scored the most points in the history of college football playoffs. Senior Brooke Morgan who has been a bulldog fan for 11 years now and will be attending as a student there next year says, "We had a lot of tough games this year like Tennessee and Ohio State, and we still proved that we are the best team."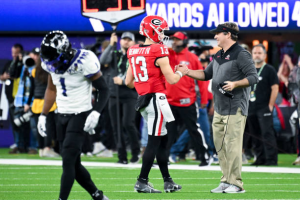 Stetson Bennett also made history breaking former UGA player Aaron Murray's single season passing record. This game was huge for Bennett as this was his last season with Georgia. He has definitely made his mark with this team leading them to be the first college football team to go back-to-back since 2012. Devyn Hlavek (11) adds her opinion on Bennett, "Stetson had really proved himself and I think it shows that he deserves this win."
The Bulldogs do plan on having a parade for the win in their hometown, Athens, GA. They will be celebrating as national champions for the second year in a row and for an undefeated season of 15-0.
The Bulldogs will be back next year with new players and a fresh start. Brook Morgan (12) "Losing Stetson Bennett next year will definitely change the team a lot, but with new talent, and Kirby being an incredible head coach, I think we can definitely do it again next year!"
The big question stands, can they do it again?