Varsity Boys Soccer Team Welcomes New Coach Jonathan Will
This Spring, Varsity Boys' Soccer welcomed a new varsity soccer coach, Mr. Jonathan Will. Coach Will, is originally from North Carolina, has a USSF C license, (US Soccer National C License) and a diploma for completing the United Soccer Coaches Premier and Advanced Goalkeeping course. Additional experience he has is ten years of coaching high school soccer including seven years of coaching varsity teams. 
Will started playing soccer in a youth league at six years old and explains during his senior year of high school, "I was recruited to play GK [goalkeeper] at Appalachian State University (N.C.) and had a great relationship with the GK coach who was recruiting me… I decided that I would rather pursue a degree at North Carolina State University then played at Davidson College."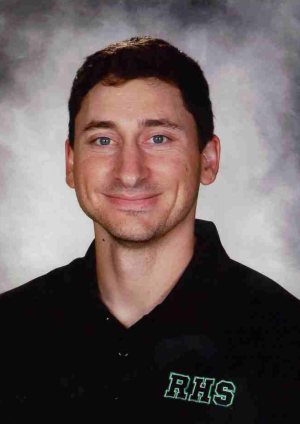 However, Will cites his passion for coaching didn't begin until his GK coach from Appalachian State, "provided me an opportunity to help him train GK's in the Raleigh area.  This began my passion for coaching and from there I got involved with my hometown soccer club in different capacities.  Eventually this led to an opportunity and teaching job at the high school level."  
With the soccer season starting Will explains the differences from North Carolina and Roswell high school, "Restrictions are in place during the school year that greatly impact workouts, and this was an adjustment for me.  Even though it was a big change, it was a good experience to help me prep for next year and how we will do offseason work to get in front of players more."  
Coaching high school soccer in North Carolina in comparison, "[had] no restrictions on the type of workouts that you are allowed to have as a coach.  I would do 2-3 soccer specific trainings a week 6 out of the 8 weeks during summer break in preparation for tryouts.  I got to know the players before tryouts and was able to have a better understanding of how I wanted to potentially approach the upcoming season from a tactical standpoint." Said Will. 
"I am used to coaching the varsity boys during the fall and the JV girls during the spring,." Will said. 
Will also discussed goals he looks forward to with the new season at Roswell, "It was difficult to shut off that coaching mindset for the fall semester at Roswell and actually have some off time.  Based on the success from last year's team, I am ready to get to work with this year's group of players and do what I can to elevate their level of performance to advance further in playoffs." 
Will says more on why he chose high school coaching, "I love being able to coach high school because I have more autonomy [freedom] as a coach and I really enjoy the program building that goes into have a high achieving program year in and year out." 
Additionally, Will states, "one thing I strive to do each season is to be as honest and transparent with my players and parents.  Understanding that each stakeholder has a part in the success of the team and making sure everyone is committed is a huge part of the success that I have had."  
Roswell is so excited to have him as a great coach, the Boys' Varsity Soccer team is off to a great start.