Thomas Rhodes Wrestling State Champion
The Roswell boys wrestling team had a great season this year, starting on Nov. 15 and competing in over 20 matches up until now. They finished the season off strongly with regionals, making it to sections, and then to state in early February. Senior Thomas Rhodes, carried the win for the 2022-2023 wrestling year, pinning, and winning at state.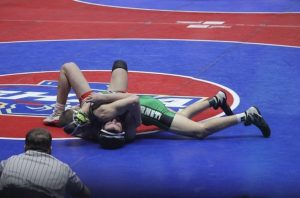 Rhodes has been wrestling for 12 years, making it to state last school year, placing fifth in the state for District 7A in the 138-pound weight class. Throughout this year's season, Thomas pinned multiple times and did so at our home senior night match against Alpharetta High School. After some made it to sectionals, only Thomas competed at State.
The Georgia state match was held at the Macon Centre plex in Macon from Feb. 16 -18. 108 individual state champions came out to wrestle that weekend, Thomas wrestled on Feb. 17 in the 138 pound weight class. In wrestling, three ways to win are by forfeits, points from takedowns, reversals, near falls, penalties, escapes, etc., or they win by pinning the other person, which means having both the other person's shoulder blades on the ground for two seconds. There are three periods of two minutes in each match. In Thomas's second period of his match, he pinned his opponent at a total time of 3 minutes and 42 seconds, giving Thomas the win and state champ title.  
"The last time we had a state champ was in 2012," said Head Wrestling Coach Edward Lenning.  
The Georgia High School Association ranked Thomas as potentially being eighth overall this year in the 6A district, but he proved them wrong and worked his way up to bring home the win. 
"Winning state has been a dream of mine for many years so the win felt like a surreal moment," Rhodes says, "and I couldn't think of a better way to end my wrestling career."