Girls Varsity Soccer Team Welcomes New Coach Mary Dessing
This 2022-2023 soccer season, Roswell High School introduced a new coach to the Girls Varsity Soccer team, Mary Dessing. 
Dessing shares her coaching experience, "I have coached at four prior schools. Each place has a special place in my heart. Roswell has been a great school to be a part of as it is truly a part of the community. I have loved working in the community that I live in and have a group of girls who have adapted to a new coaching staff and want to work hard and improve daily."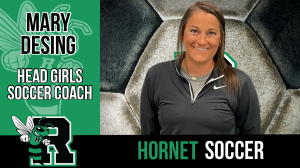 Dessing has already made an incredible impact on this team and has led her players to many victories, making everything fun and enjoyable all while allowing the girls to gain experience with soccer. She shares one of her favorite moments with this team, "One of my favorite memories thus far is celebrating my 100th win as a head coach with this team! Also, enjoying team breakfasts and pasta dinners together." 
Dessing played many years of soccer before she was a coach. She says, "I have played soccer almost all of my life and have always loved it. When I was in grad school, I had the opportunity to be a graduate assistant soccer coach and fell in love with coaching. As I continued in my coaching career, I love the bonds that I have built with my players over the years, and I truly love to watch players grow and success." Dessing was a four-year varsity player during her high school years and played soccer throughout all of her high school and college years, concluding that Dessing is an extremely experienced coach. 
Junior Caitie Waugh gives insight as to how she feels about Coach Dessing being the new coach, I really like her as my coach because she really likes to connect with all her players, but she's also serious at the same time and I think she is going to help us go really far this year."