The girls' varsity volleyball team welcomed a new head coach for the 2023 season, CBI teacher Erika Ford. Ford has been coaching volleyball for the past seven years, but this is her first year as a high school head coach. She also coaches at A5 volleyball club during the summer. 
 Senior Natalie Wilson, who has been on varsity volleyball all four years said, "She [Ford] has helped the program a lot and has brought us closer as a team. She challenges and pushes us to be our best."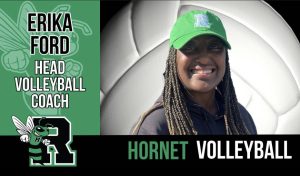 Ford came from North Forsyth High School, where she was an assistant coach since 2020. Before that, she was an assistant coach at Chattahoochee High School. She says, "The difference in now and then is that now I can run the program how I see fit versus supporting someone else's goals."  
 Transitioning from one school to another and taking on the job of Head Coach is not an easy task. Ford discussed former challenges, but she said, "[I am] thankful for the support of everyone in my department, my volleyball board, and our athletic director."
Story continues below advertisement
 Adding a new head coach to any sports programs requires readjusting for both the girls on the team and the coach.  
 Ford said, "…just changing the mindset of our team and creating a new culture, a winning culture of Roswell Volleyball."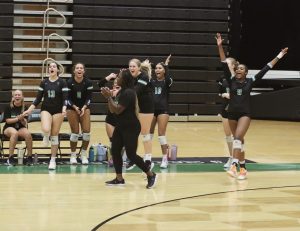 Junior Tatiana Robinson is in favor of these changes and said, "Coach Erika is one of the most supportive coaches I've had. This is the first high school season I've had we're I could walk into the gym and feel like I had a coach who was willing to put in just as much time and effort into making the volleyball program just as great as I wanted to. Even when she yells or gets angry it doesn't feel negative at all and feels like a caring push. She's a coach that I can tell anything, and I know that she will never judge or discredit anything I say; she's just an all-around great person."
 Ford said a "winning mentality" is what she wants the team to have.  Ford said, "[I] want to win all the championships, but we are building something bigger than that and that takes time". 
 "Playing as a team is her priority for us which helps us on and off the court. She puts everything she has into the team and gives her full effort all the time; we are very blessed to have her," says Wilson.