Diving into the Swim Team With Ediz Eribac
Most people have a pretty typical start to their day. Most people usually wake up a little early, eat breakfast, get dressed and get to school. Ediz Eribac is not like most people. Waking up at 4:30 to get in a cold pool at 5:00 is an everyday activity for him.
"Being on the swim team is usually very laid back, but you never really get used to waking up at 4:30 in the morning to get in the water by 5:00. It's exhausting, but it's also refreshing for a little while. It makes the day feel twice as long!" said Ediz.
Even when talking about one of his least favorite aspects of having to swim, Ediz still maintained a positive attitude with his passion.
"At first it's like an energy rush and you come into your first few classes really refreshed and energetic and then by 6:00 P.M I'd be dying for a nap, but it was honestly pretty nice getting my sport out of the way and then having a free afternoon to do homework or nap or whatever. It's exhausting, but you feel stronger and fresher overall even though there's eventually a crash," said Ediz, when asked about what the effects of waking up so early to swim were for him.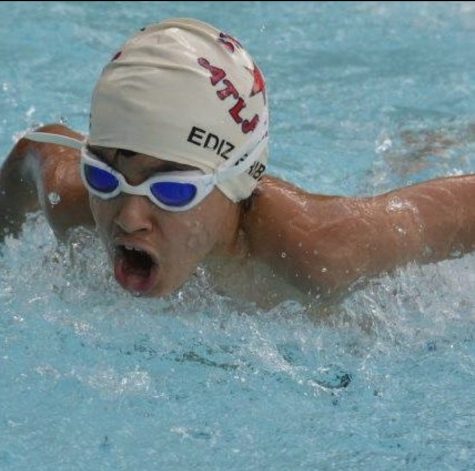 Even with the extra strain of having to get up at the crack of dawn and exercise vigorously, Ediz doesn't let that get in the way of his studies. He was recently nominated for the VIP award and currently has a solid GPA for his sophomore year. His dedication both on the swim team and off of it clearly shows, and his contagious enthusiasm for the things he is compassionate about have a profound effect on his peers.  
Ediz is a very talented individual with many aspirations in life, and his obvious passion for his sport is unparalleled. His interest in the sport is evident and his drive for success will surely take him far into the sport and beyond.