A sit down with Salma Repole, Roswell's own personal food photographer
I recently had the honor of sitting down with one of our own Hornets, Salma Repole, for an interview about one of her passions: photography. More importantly, food photography. Across all grade levels, the senior is well known for her camera skills, especially on her Instagram account, and for good reason. Her photos make stomachs rumble and mouths salivate for how scrumptious her pictures look, and to be able to interview Salma is a dream come true.
To discover more of Salma's many wonderful photographs, click for her instagram and for her personal website. 
How did you get started in photography, and more specifically into food photography?
I've always found photography so fascinating, especially how a camera captures the images. I got my first camera at an estate sale for $3. It was a film camera summer of 10th grade. I was inspired by a YouTuber and a food photographer Jonie Simons. I watched her videos because she gave good advice, her pictures always made me hungry. One day I made bagels for my siblings and the sun was coming in so nicely, I asked my sister to get me my camera. I had very limited experience so the picture is more minimal. That's when I first seriously considered it as a pathway for photography.
What type of camera and lenses do you use?
My current camera is a Canon t6i. I use a 15-55mm lens and occasionally use my 50mm for greater blurry background effect. I got it second-hand off eBay. My advice is to stay at the 50-55mm area because it gives the most the image that looks as if you are there looking at it.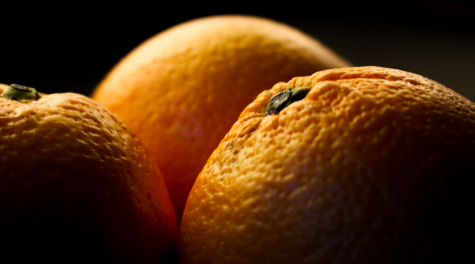 How long does it take for you to set up everything for a photoshoot?
Photoshoots take a while, my shortest shoot was like 45 mins. My longest range from 2-3 hours especially when I just started, because I would try using every one of my props, and use all angles when taking pictures. The blueberry muffins and bagels with tomatoes took a while. Because, sometimes, it's hard to capture the dish at certain angles so it can very hard to place it at an exact angle and take the image. Finding other food props such vegetables can be tedious, or even holding the knife at certain angles not to have harsh reflections.
Do you make all the food yourself?
I'm not that good of a cook, I have to always look at recipes. I would like to say it's divided evenly of things I make compared to things store-bought or my mum made. I would like to start making my own stuff more to prove that it is completely possible to have food that looks good, with little cooking background.
Out of all of your photos, which is your favorite image out of your collection? Why?
My fried chicken one the most because it was a very easy shoot, and the lighting and camera settings (I shoot manual, so I have to set all the settings) were working in my favor, so every picture I took my heart just fluttered. I have to say I love them all; I learned something new with each one.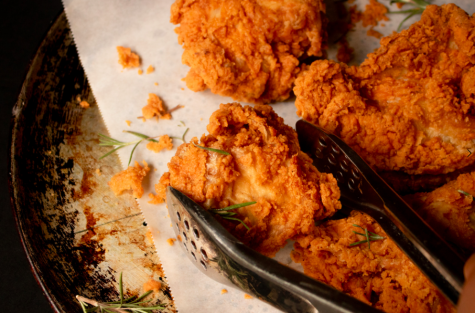 When people view your photos, what do you hope they take away from them?
I want people to feel hunger when they see my images (I know it sounds kind of mean). If you feel hunger it means it has satisfied you in away. It means your brain released some dopamine and that the picture brought you happiness and as a result, you want to eat it. 
What do you recommend to other people who are curious about food photography?
Food photography can sometimes be so tricky because some foods make just hard to capture into the camera. I would say start with some neutral colors for props (i.e plates, table clothes, utensils) that way your food takes up the most attention. And don't worry about buying fancy name brand plates. People don't care, go thrifting you'll find all sorts of stuff. Before starting a shoot go online and look for inspiration, and see what others are doing and add your twist on it.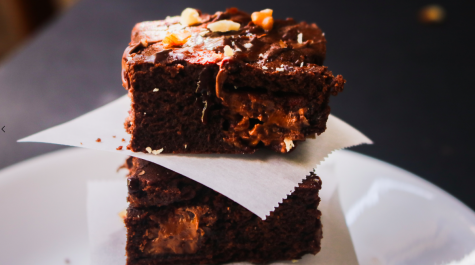 What do you hope to do with photography in the future?
I would LOVE if I could shoot pictures for restaurants so they can put it on their website and their menus. I also want to shoot for cookbooks and travel across America for my work. I want to live in an RV and just go from location to location and get paid for what I love doing. 
Would you like to add anything else?
Anyone can do this. If you go to a restaurant and would like a take a picture of your dish I recommend taking the napkin and draping it along the side of the dish utensils face down on the other side or even on the edge of the dish make sure the plate looks lively and snap it on your camera. Closest example would be the one on my website, it's in a grey bowl with mashed potatoes, chicken and broccoli. The encouragement I receive from my Instagram keeps me going. Sometimes I have to force myself to do a shoot that day, or else I'll get lazy and not produce anything. My favorite part of all of this is post-processing, sitting down with a cup of mint tea editing my images, updating my website and posting to my Instagram is enjoyable.