Mahfuz "Jimmy" Hussain, owner of Rhea's, is real Roswell
Sitting on the corner of Canton Street and Woodstock Road is a small building passed by many every day. Some people have written it off as a hole-in-the-wall, while others don't give it a second thought. But for those who know, this is a treasured Roswell spot. Old-time residents have been visiting Rhea's for many decades, ensuring its establishment as a Roswell staple. 
Upon entering the restaurant, visitors are bombarded by greetings from owner Mahfuz Hussain. Rambunctious conversations crisscross the room filled with campaign stickers and Roswell memorabilia. Newcomers will often mistakenly call the jolly man behind the counter "Rhea" or "Mahfuz," but old-timers know that he is simply "Jimmy." Rhea's was named for Glenna "Rhea" Wheeler, who started the restaurant in earlier times. The restaurant's namesake passed away in 2013. Jimmy still keeps her picture in the original location, with 1939-2013 written below.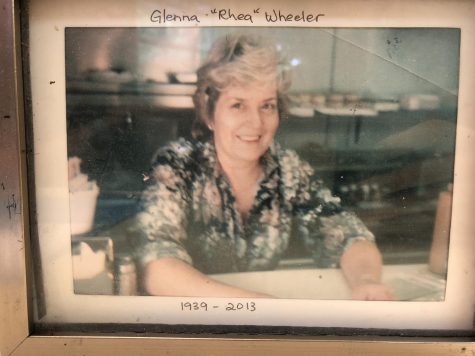 Though it seems that Jimmy has been in Roswell forever, this is not so. He was born in Bangladesh, so long ago "he can't remember," he jokes. Jimmy moved to the U.S. in 1981 and was working at Rhea's by 1983. Since then, he has married and has had two children: Suhad, a Roswell High School alumni and current student at the University of South Carolina, and Saad, a freshman at Roswell. Four other locations have opened, although the Sandy Springs restaurant has since closed. In case anyone was confused about the numerous locations, they are named Rhea's Take out Foods, Rhea's II, Rhea's III, and Rhea's IV. 
Ask anyone who grew up in Roswell about Jimmy and Rhea's, and they'll answer with a warm smile and funny anecdote. But how does Jimmy feel about Roswell? When asked his favorite thing about Roswell, he said that there are "good people here." As for the best restaurant in town, "Rhea's is the only good one," he says with a grin. 
Throughout the decades, Rhea's has racked up quite an extensive clientele, the most famous customer being Paul Newman, 60's actor and heartthrob. Jimmy says that when the movie star entered his restaurant, he didn't realize he was famous until after he left, when a woman sitting on the counter exclaimed, "Jimmy! That was Paul Newman! Did you not see his eyes?" The star reportedly said that it was the "best hamburger of my life." Though Paul Newman was a legitimate celebrity, Rhea's has served a number of Roswell-level celebrities. The longest customer has to be Pres Judy, he says, the father of current City Councilman and 1995 RHS graduate Matt Judy.
"I have been eating there since elementary school at Roswell North and now have the chance to share the Rhea's Special with my son that attends school there now. You never know who you will run into grabbing a burger, but you are sure to leave with a one of a kind Roswell experience and full stomach," said Mr. Judy.
Father Fran, a well-known Atlanta area priest, was another frequent visitor.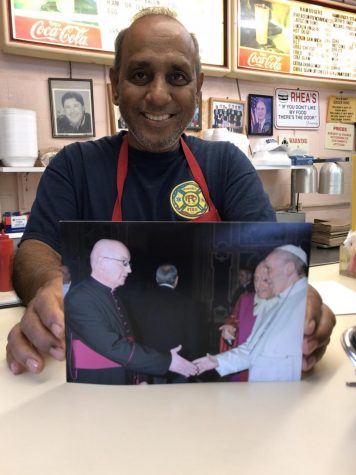 Jimmy's sense of humor combined with the pure deliciousness of his food (his special burger "all the way" will be the best thing you've ever tasted) adds to the enjoyable atmosphere of the place. It is not uncommon for Jimmy to know your face and family, and if he doesn't, he will soon. Jimmy is always joking around and will likely call you his family, just like he calls Matt Judy his son, and longtime customer Nancy Mitchler his sister. Rhea's has been a staple for football players for many years, and they often return once they've grown, bringing their own families to eat at their old high school haunt. Jimmy remembers every last one of their names. He remembers customers' grandchildren or their son's job or at the very least, their faces. His charisma is a large part of what makes the place so special.
Nancy Mitchler said that she has known Jimmy for thirty years and that he's "a trip." Ms. Mitchler's said that when her mother used to come in, Jimmy would say, "'What are you doing in here, grandma?' It's real fun." Rhea's is beloved by younger generations, too.
"I come here every Saturday. I don't even like burgers but I like them here. It's the best of the best," said Sarah, a former Sprayberry student.
Jimmy adds that he was the one who introduced the signature french bread with the burgers. They wouldn't be the same without it!
Roswell students may recognize Rhea's as the burger place next to Bruster's, but it is much more than that. It is a gathering place for all Roswell citizens, a place that embodies all that Roswell is. Roswell has grown significantly since the 1980s, and whether you think that's a good thing or not, it is evident that the town has changed. 92 used to be a two-lane road. The shopping center containing students' favorite places, like Taco Mac, Tropical Smoothie Cafe, and yes, Rhea's III, was a horse pasture. Throughout all these years, Rhea's has stayed constant. Rhea's has and will continue to be a pillar of Roswell, a meeting place for young and old, rich and poor, Republican and Democrat, newcomer and longtime resident. Rhea's is Roswell through and through.