The exchange student program is important
"Why did you decide to do an exchange?" people ask me all the time. "One year far away from your family? With no friends or people that you know? In Roswell? Why? Why here?" and with no time to lose, I always answer with a "why not". And this is truly my answer, but it is not really developed.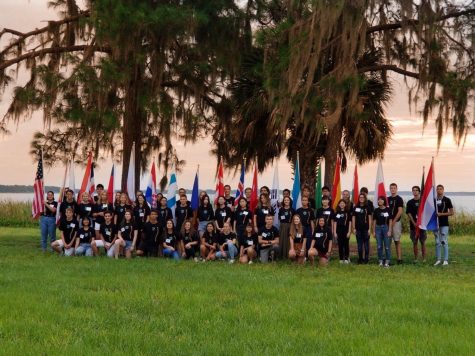 People look at me and it seems like I am crazy for doing an exchange (to be honest, I must surely be since I decided to do it here in the United States), scared just by the thought of being one year away from everyone and everything they know. But the thing is: I know how hard it appears to be but, despite all the difficulties of being an exchange student, it is only one year of a whole life.
Time flies really fast and people do not seem to notice it. The friends I made here probably did not realize that nearly half of my exchange has already happened, but I do. Everyday I wake up and try to do my best to get to know new people, to experience new things and to live my life here in the best way. Being an exchange student is about living everyday in the new country as if it is your last one, because soon it will really be. 
The exchange program is about getting to know new cultures, immersing yourself in different customs and understanding other points of view than the ones you are used to. It is a personal development and a whole process of growing up and being more mature; getting out of the comfort zone and dealing with the most unexpected problems by yourself, because after all, you are doing it alone with no mom or dad to help you out. 
It is a time in your life when you have no one but yourself. And that is enough. When things get tough and you are away from everyone and everything you have grown your whole life with, it is alright because you have yourself. It is about liking the person you are and understanding that loneliness it is not necessarily something bad, because it is when you can get to know who you really are and understand your own feelings. 
I miss my country a lot. I miss my friends, family and my city. Every day here makes me more in love with my country and proud to be who I am, to be a Brazilian; but despite all these feelings that disturb my heart and make me homesick sometimes, I do not want to go back, not yet. 
Doing an exchange is a unique experience and people should be more encouraged to do it. There is so much to see and explore in the world and we have so much ahead to live. You meet diverse people and get to know opinions and visions about the world that you have never imagined before. This is what makes exchange programs so essential to the world.
The Rotary program, as many others, is a nonprofit organization and has the purpose to provide humanitarian service and to advance goodwill and peace around the world by bringing together community leaders. Every year the Rotary Youth Exchange program sponsors thousands of students to go around the globe and experience new cultures; to get out of the comfort zone and comprehend different perspectives of life, connecting people from such different countries and spreading peace and sympathy. 
The exchange programs connect the world and if we in fact only have one life, why are people so afraid of the unknown? The real question should actually be "why are you not doing an exchange?" After all, "man cannot discover new oceans unless he has the courage to lose sight of the shore."
Would you do an exchange? Submit your opinion here.