Harry Styles breaks gender norms through fashion
In 2010, five boys were grouped together on the British entertainment show X-Factor and created the boy band: One Direction. Although, one member stands out, constantly pushing and redefining the limits of pop culture: Harry Styles. As his boy band years came to a close, Styles began to experiment with fashion that is typically considered "feminine". 
Painted nails, flowing blouses, tight pants and heels have become staples in his wardrobe, leading the way to a more progressive and accepting view of men's fashion and overall freedom of expression. As fashion continues to be a platform for personal expression across the world, Styles is paving the way for young teens, especially boys, who wish to show all aspects of themselves, even if they are considered traditionally "feminine". 
"
Harry Styles is amazing because he defies masculinity norms with his fashion statements and Gucci suits. In addition, he has amazing music.
— junior, Laila Azimzadeh
Very open about his sexuality, Harry is able to show that masculinity is not defined by the traditional standards of white-collar button-ups, but rather by the acceptance and embrace of one's femininity, which he presents through his numerous outstanding pieces.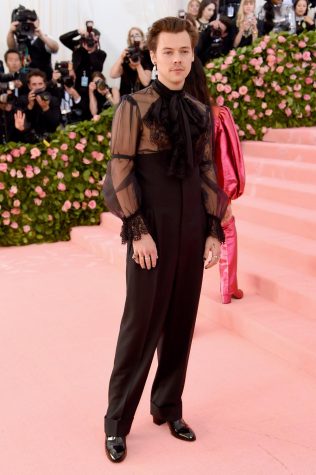 As low and half-buttoned shirts became a signature style for Harry toward the end of his career in One Direction, he continued to push the norms of what the perfect boy band heartthrob should be. In his 2018 appearance at the Met Gala, Styles showed off a sheer top and earrings, both of which were considered typically to be more feminine. While he may not have been the first to rock the sheer top and earring look, his widespread influence on youth and young adults across the world positively enforces the idea that fashion and gender norms do not apply in today's day and age. As gender fluidity becomes a more accepted and talked about subject, Styles serves as a perfect example for the limitless realm of identities and ways of expression, fashion being only one of them.