New Coach, New Kit, New Season
After last season's disappointments Atlanta United fans are ready for a fresh start and the opportunity for the club to get back to its winning ways. Last season was a bust. From losing the former MLS MVP to injury to season interruptions because of the coronavirus, 2020 was rough for everyone, but during the off season the club signed a new coach who brings a new perspective to the club and hopes for a better 2021.  
New coach Gabriel Heinze is an Argentinian coach who spent the last 3 years as the head coach of Velez Sarsfield, a club in the top tier of Argnetinian football. Before he started coaching Heinze played at some of the top European clubs such as Manchester United, Real Madrid, and Paris St. Germain. For avid Atlanta United fans a new Argentina coach makes them optimistic as they hope he can become the next Tata Martino, United's first head coach, and the front office believes Heinze can fill these shoes. 
Club Vice President and Technical Director Carlos Bocenegra said, "Since we launched Atlanta United, our objective has been clear to play an aggressive, attack-minded style of play. Gabriel fits that mold and has a dynamic playing style that aligns with the identity of our club, which is what we were specifically looking for in our next head coach." In United's championship winning season they played this style and with the help of Heinze the team is optimistic for a successful season. 
But a coach alone cannot be successful, at the end of the day it is the players on the field that score the goals, and Heinze has done his diligence to bring in players best fit to be successful. He has signed four South American players with lots of potential Lisandro Lopez, Santiago Sosa, Alan Franco, and Erik Lopez. 
Lisandro Lopez is an older player but has already shown his veteran abilities both as a starter and coming off the bench. Santiago Sosa is a holding midfielder who has shown his quality defending as well as transitioning to the attack playing every minute of the games since he has been signed. Erik Lopez is only 18 years old, but he already has first team and international experience and has the potential to be a very exciting striker for Atlanta United. Bocenegra said, "He is a versatile forward with great instincts and movement. He was highly sought after and we are pleased he chose to sign with our club." Alan Franco is the newest designated player for Atlanta United and "a competitive and aggressive center back who is comfortable with the ball at his feet."
Not only did Atlanta United sign new players the injured Josef Martinez is now recovered and every United fan hopes he can return to the form he was in before he tore his ACL and lead the club to another championship. Click here to see him return to the field at Mercedes Benz Stadium.
With new players and a quality coach the club is prepared for a successful season, but not only is United starting the MLS season they are also a part of the 2021 CONCACAF Champions League. In the first round they played Costa Rican side, Alajuelense, winning 2-0 on aggregate. In the first game they traveled to Costa Rica and despite an early red card to starting keeper Brad Guzan the team came away with a 1-0 win after a tough defensive stand in the second half and a PK by Ezequiel Barco. After the game Coach Heinze was asked if he was surprised that United came out with the win as they were considered slight underdogs. He said, "The word surprised, no. I was very hopeful that my players would fight for this club, but not surprised." In the second leg the team had another successful game at Fifth Third Bank Stadium where Jurgen Damm scored in stoppage time to secure the victory. 
Just 4 days later Atlanta traveled to Florida for their first MLS match of the season against rivals Orlando City. Although the game ended in a 0-0 tie both teams had many chances throughout the game and for Atlanta fans the style of play was reminiscent of the attacking play of the United's first 2 seasons. Roswell freshman and United season ticket holder Nick Meyer said, "They didn't win which was disappointing, but after the game I felt very hopeful for more success this season than last year."
This hopeful outlook came to fruition when Atlanta won their home opener 3-1 against Chicago Fire in a 50% capacity Mercedes Benz Stadium. Although there was only 20,335 fans in attendance because of capacity limits due to COVID restrictions the stadium felt full when Ezequiel Barco sent a banger into the upper 90 of the goal to put United up 1-0 in the 23rd minute.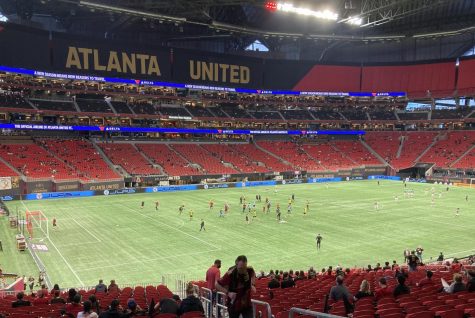 Atlanta United kept the lead going into half, but just 1 minute into the second half Luka Stojanovic slotted one into the bottom corner to tie it up for Chicago after a series of defensive errors by Atlanta United. In the end this defensive lapse didn't matter because Atlanta United found the back of the net 2 more times, in the 65 and 85 minute, to secure their first MLS victory of the 2021 season.
Atlanta's next match is away against New England Revolution on May 1 then they continue their Champions League pursuits on May 4 against Philadelphia Union. 
For the full Atlanta United 2021 schedule click here.
To read more about the disappointments of last season click here.