Roswell Local Flair: Veganism made easy with Gregory's Atlanta Vegan Breakfast  
Continuing on in the search for the best local restaurants around, this month's stop came as a surprise. The longer I write this series, the more I have realized that no restaurant I have included has had any type of special diet accommodations. I know not all people's diets are the same so in an attempt to remedy my poor diet inclusion skills, I have chosen an all-vegan breakfast and brunch place to review this month. Gregory's Atlanta Vegan Breakfast is located on 114 Bulloch Ave, Roswell, GA 30075, right across from the Roswell Mill. They are open Friday-Tuesday from 8:00 a.m. to 3:00 p.m.  
Being a vegan is a difficult lifestyle to lead. It is certainly not a lifestyle I could partake in. However, Gregory's Vegan Breakfast has definitely made my chances of becoming a vegan much higher. The food is definitely head and shoulders above any other vegan food I have tasted. I ordered a couple different dishes to get the full experience of this restaurant. I ordered the Spicy Slap Ya Mama Chik'N Biscuit which came with a side of home fries. I also ordered the Bananas Foster French Toast which came with a side of eggs and sausage. To top it all off, I ordered their French Vanilla Iced Coffee.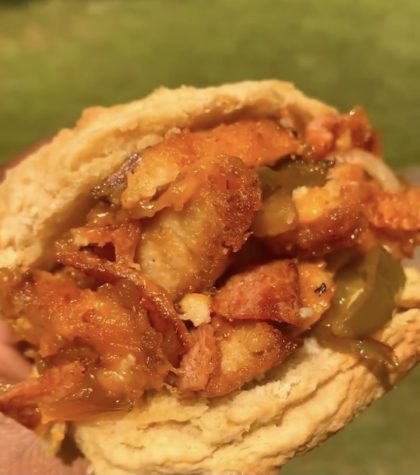 The Slap Ya Mama Chik'N Biscuit was absolutely delicious. The chicken was made out of jackfruit which is a perfect substitute for chicken because of how meaty its texture is. I would not have been able to tell the difference if they told me the chicken was real. The jackfruit was seasoned to perfection. It tasted exactly like a spicy chicken sandwich. What I loved about it was although it was spicy, it didn't burn my mouth off. It had just the right amount of spice to showcase that "chicken." flavor. The side of home fries were the perfect side to pair with the biscuit. They were seasoned extremely well. The only complaint I had was they were a bit mushy, which normally I don't mind as long as some of the potatoes are crispy to create a difference in texture. However, that crispiness was something these home fries were lacking. 
 Next up is the Bananas Foster French Toast. The flavors were definitely all there. The cinnamon really came through the toast and the bananas foster mixture and there was a sweetness of the bananas that paired nicely with the toast. I also loved whatever bread they used for the toast part. Again, I couldn't tell it was vegan. However, I was not a huge fan of the bananas foster mixture they made, it just wasn't my cup of tea. The side of eggs though most certainly was my cup of tea. They tasted very cheesy even though there was no cheese in it. I couldn't tell you how they do it. The sausages that also came with the french toast were okay. I mean I wasn't really expecting much out of a fake sausage. They were mostly made out of veggies and an array of seasonings so they didn't taste terrible, but I would simply like to stick with my real sausage meat.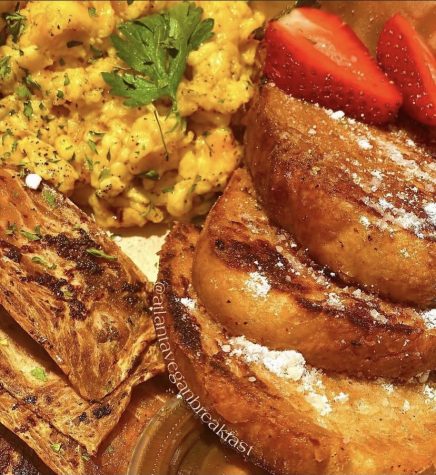 The Vanilla Iced Coffee was creamy and delicious. It was made with cold brewed coffee, French vanilla syrup, French vanilla cream, topped with whipped cream and cinnamon. It tasted just like any other coffee with a non-dairy milk but I did enjoy it. I love cinnamon in my coffee so the cinnamon on top is what made it a treat for me.  
 I did enjoy this restaurant and I stand by my statement of it being some of the best vegan food I've ever had, however I do have some complaints. It is extremely expensive. Do not go here expecting to drop anything less than at least $25.00 per meal. The spicy chicken biscuit was priced at $22.00, the french toast was also $22.00 and the coffee was $8.25. I ended up spending $65.00 in all with the tip. Now I am not one to be stingy when it comes to paying for good food but in my opinion this is extremely pricey, especially for breakfast. My Starbucks coffee is less money than the latte I bought here and that is saying a lot. In addition to this, I waited an hour and thirty minutes for my food to come out and when it was finally ready it was cold as if it had been sitting for a little bit, which I thought was weird considering how long it took. Despite the long wait and expensive prices I did enjoy the food and will be going back to try it again. I give Gregory's Atlanta Vegan Breakfast a 6.5/10. I am taking off some points for the wait and the prices but I do recommend you give them a try. Keep in mind they are a small business and everything is vegan so try not to stress too much about the prices.