How do we effectively prevent suicide?
Suicide in adolescents aged 12-19 have increased by 70% from 2006-2016, making it the 2nd leading cause of death for high school students. As the suicide rates have continued to tick up, a question is being raised: who has the responsibility of fixing this epidemic and how can we help? Presently, schools and universities have been the ones fixing these issues, usually through mental health awareness campaigns, assemblies, meetings and the implementation of suicide prevention into the school environment. Unfortunately, as a whole, these tactics have done little to reduce the national suicide rate in the US, though the local effect of these programs seems to be more positive. After implementation of the Signs for Suicide program, counselors saw a huge uptick in students using their resources and reaching out for help. 
Roswell has been uniquely responsive to the Signs of Suicide program compared to other schools in the Fulton County area. Jennifer Miner, the RHS counselor that headed this program's presentation to the entire student body, states "When we look at the number of students who came to take advantage of our services after seeing the presentation on Friday, it's 120+. If this program wasn't shown, and students did not feel comfortable reaching out, where would they be?"
 Roswell has a recent history with the horrific loss of students and that most likely is the reason that this program is so effective. Roswell's social worker Valerie Rogers says, "We are still, in a lot of ways, in that fallout and those wounds aren't ever going to be fully healed."
 She also says that the pandemic has a lot to do with rising suicide rates, as mental health emergencies for teens have almost doubled after COVID-19 hit in March. Miner says, "depression has just skyrocketed during this time, it's the isolation."
Despite the local success, nationwide studies suggest that these programs just are not effective in actively reducing the number of suicides. This could be attributed to the risk factors, since the state of mental health is growing harder to keep up with every single year. As numbers grow and trends show no sign of slowing down, it can feel like videos and presentations just don't go far enough.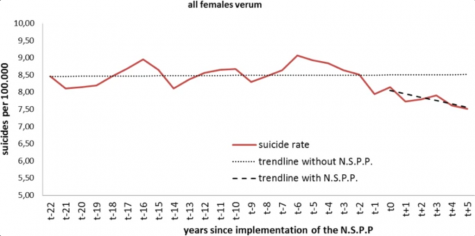 Senior student council co-president Keirstan Capurso says, "These videos and presentations can feel like it's the same things being told to us over and over again. Obviously it's great to have but I wish there was more." Her class has witnessed multiple student deaths since their freshman year. "It can feel very hopeless for all of us, we have lived through a lot and as a class are very divided…having practically no senior year doesn't make things easier."
There are ways, even in this difficult time, to make things easier for others. Mrs. Miner and Mrs. Rogers agree that the single most important thing a person can do to prevent suicide within their own relationships is to be an open listening ear. Miner says to "listen, to listen to your friends, your family, the people in your circle. Be aware of signs. Most people struggling want to be heard and seen." Rogers echoes that "You have to be caring, to be kind, and most of all have the tools in your corner to help someone." 
Senior Emanuel Hiraldo thinks it is about community, "When someone is alone it doesn't matter if we all know the signs or watched the video, no one is there to notice them, so they are left behind. We have to carry an awareness that goes beyond just our small friendship circles or the staff to their students. We need to be selfless and look outside of that group." 
The current resources and messaging, while helpful, have proven mostly ineffective, but what will be effective? It has been shown that the accessibility of mental health services is the most effective prevention strategy. From talk therapy, medication, psychiatry services, group therapy, and faculty stays, these services if made free or low cost and introduced early in life could cut suicide attempts in adolescents in half.  We have to give real foundational support to our youth and that unfortunately can't be solved on a short budget within an eight-hour school day.
Until we can reach that point, though, this should be a community effort to radically care, to listen, and to be aware of signs. As a whole we should be ensuring that to the best of our abilities to care for our own mental health while looking out for the people around us. 
Read on why we should stop using mental Illnesses as adjectives.
To read more about therapy offered at Roswell.
Meet our new head counselor Yolandria Wyche.
Click to access mental health resources and support through the student center. 
Click for free texting with a mental health professional with Text4Help.