Roswell Football's Senior Night
On Oct. 1, Roswell High School had their annual senior night, where they celebrated senior football players, athletic trainers, cheerleaders, the marching band, and the mascot Sting. This night is supposed to give the seniors the spotlight for the night as this is the last year they will be at Roswell High School. 
The night started off with a walk-out for football players, then athletic trainers, then cheerleaders, Sting, and the marching band.  Each student walks out with loved ones and then takes a picture with their coaches and Dr. Shaw.
Senior CJ Hayden was asked about what he thought about this being his last year of playing football at Roswell and he said, "Throughout high school, football has been a big part of my life. For me, nothing would be the same without football because of the memories that come from being on the team and sharing them with the people I call second family. Nothing compares to what it's like to be in the huddle and with it being my last season, I won't take anything for granted."
Senior, Madelyn Agostini expresses how she feels about her experience with training, " Training has been one of my best memories of high school and i'm going to miss my friends and the team so much next year."
Below is a video of the Athletic Trainer portion of the senior walk:
Later on that night, the Roswell's football team was able to beat Etowah High School 15-6. Junior Ethan Nation scored a touchdown and junior Chris Elko also scored a touchdown. This led Roswell High School to have a new record of 5-1 with an 81% win rate. They are also 1st in AAAAAAA 5 Region and are 2nd in GA Class AAAAAAA. 
As well as the night being Senior Night, the theme for the football game was Pink Out. The Pink Out theme is to show support for Breast Cancer Awareness as October is Breast Cancer Awareness month. Students support both the team and Breast Cancer Awareness by wearing pink.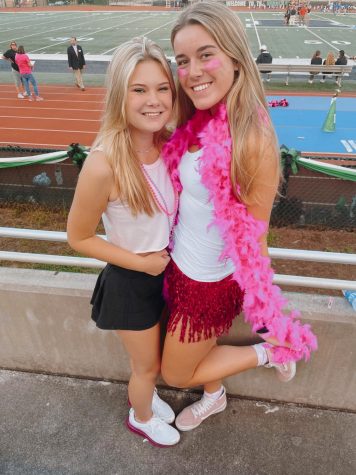 Roswell High School's next football game is at home versus Milton at 7:30pm and the theme is Black Out. Go and show your support for the Hornets to lead them to another win!