Adele comes back with a hit
Five years it's been since Adele graced us with her beautiful voice and storied lyrics. I and many other adoring fans have missed her dearly. Adele has been part of my life since I could walk. My family always had her CD's in the car ready to pop in the player at a moment's notice. So naturally, I have been lost these past five years without her. You can imagine my excitement when she announced she was ready to return earlier than she anticipated.  
In my opinion Adele is one of the best singer/songwriters of our generation. Every song she sings is filled with so much emotion through the words she chooses and the way the melody is composed that you can't help but feel something while listening to them. Adele fan Hannah Sandstrom agrees, "I love her music because you can truly feel the raw emotion she pours into each song." Her career is filled with hit after hit from "Chasing Pavements" on her first album to "Someone Like You" on her second album all the way to "Hello" on her third album. She is now on the way to yet another hit with her brand new song "Easy On Me." 
Within just a few hours of "Easy On Me" being released it received over 11 million views on YouTube and is now up to 96 million views and counting. She deserves every view and every download because this song is truly a masterpiece. It perfectly embodies who Adele is as an artist and showcases her talent beautifully. I couldn't think of a better comeback song myself. This is coming from her number one fan so you can trust I would if I could. The song is about her recent divorce. Adele was interviewed by CNN and she explains that her and her ex-husband simply did not love each other and it was time to move on, "'I've been on my journey to find true happiness ever since."' As I listen to the song I can feel the overwhelming heart-wrenching emotion through her lyrics. It is quite beautiful. 
I am so incredibly proud of Adele for taking time for herself to grow as a person and an artist. Even though she took time off from her career "Easy on Me" makes it feel like she never left. The song is just as amazing as all her others. She has a skill of creating music that people can relate to. They feel as if the song was written for only them because it creates the exact feeling of a particular moment in their life. This is why she is the significant artist that she is. She connects with people on an emotional level. I believe the reason for this is because she does not sugarcoat her life experiences. Senior Kendall Gilreath explains this perfectly, "She is truly an inspiration to all people young and old but especially to women. She shows us that no matter what difficult stage of life you are in, it will get better, you just have to persevere." Life is difficult and unlike some artists she is blunt about this.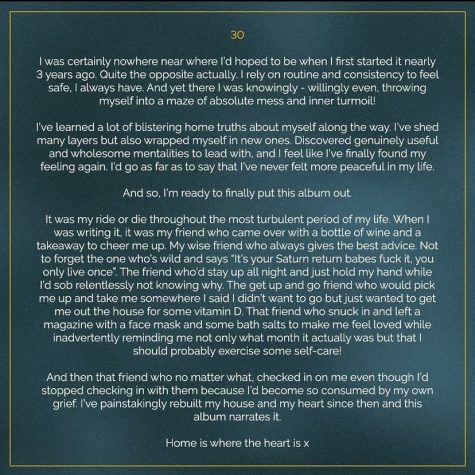 I know all artists create music based on their experiences but Adele does it better. She is real and honest about her life with her fans. She started an Instagram live a little while ago and when asked what her upcoming album is going to be about her exact words were, "Divorce babe, divorce." The response from people was instantly overwhelming. People started commenting they have gone through the same situation or they were going through something similar and just like that, Adele was able to connect with fans yet again. Every album she has created she was able to take her listeners on a journey through that year of her life through every song. I am excited to see what she has in store for us when her album, "Adele-30" drops on Nov. 19.  
I don't think I am prepared for this new album but that is the beauty of Adele. She has kept me on my toes for the entirety of her career and I know she's not stopping now. If you are wanting to read up on some more upcoming music check out Drew Maddox's blog (insert link) on the Wallow's new song or Gia Easter's new blog (insert link) on Fenn Rosenthal's new song.