Varsity Basketball Shoots into Mid-Season Major Moments
With the seasons changing, Roswell shifts its focus from fall to winter sports. The 2022-2023 basketball season started in November, and our varsity boys have played 18 games already, the girls playing 20. These games have brought focus to Roswell varsity basketball with all the major moments they've had while playing.
The girls had a great kick-start to the season, winning their first three games. Alex Gonda, a freshman on the team, notes that her own proudest moment was when she "scored 14 points in one game, but most of them were off the three's, meaning I scored four three pointers."
Alex also noted how in their last game, on January 7 against North Springs High School, Maren Cline, our team's #1, scored 36 points for the team. Along with her, Eve Buckley made 27.  Eve, who is ranked 4th overall on the team, also hit a buzzer-beater at their game against Blessed Trinity.
While having a 7-11 W-L record, the girls have Roswell varsity basketball ranked 6th in the region!
The boy's team has had some scattered wins, some were close calls while others seemed to be easy wins. Their most recent game, on January 14 against Westminster High School was a great home-game win, scoring 70-54.
The coach of the boys' basketball team, Coach Phillips, who is also a social studies teacher here at Roswell, gave intel about some major moments in their season so far.
"During the Kelly King Classic tournament over the break, junior Will Petteys had scored 18 points, made 15 rebounds, six blocks, and four assists during the game." Which, in simpler terms, means he scored 18 points for the team, caught the ball 15 times off a missed shot attempt, blocked the ball on some opposing players shot attempt six times, and made a final pass to a teammate who then scored a basket because of that pass four times. During this same tournament, top scorer on the team, a junior named Rob Hunter, was "named to the Kelly King Classic All-Tournament Team."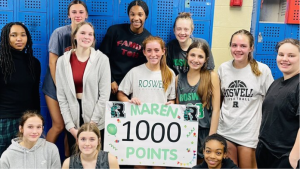 "In the semifinals of the Kelly King Classic, Soph Parker Hake hit a game winning three to defeat Cherokee Bluff and send us to the Championship Game." Coach Phillips notes.
Though the boys have a 4-13 record, they "are learning how to win with a very young and inexperienced team."
As the season goes on, both teams continue to give it their all and have fun.