Emma Chamberlain is Gen-Z's new Paris Hilton
Paris Hilton was one of the hottest and trendiest icons during the 2000s. She helped influence many of the fashion trends,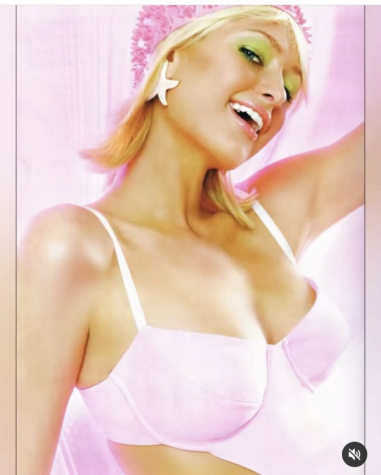 including low-rise jeans, velour jumpsuits, giant Aviators, and even millennial pink. Paris Hilton is known for outfits, and even to this day, people are inspired by her past outfits.  You could say that in the 2000's Paris Hilton was one of the biggest trendsetters. 
Now that it is the 2020's and 2000's fashion is seen as out of date and not in style anymore.  Emma Chamberlain, Influencer, who has 10.8 million subscribers and has over a billion views on Youtube, is now the new trendsetter. The Atlantic wrote that Chamberlain was "the most talked about influencer in the world" in an article titled Emma Chamberlain Is the Most Important YouTuber Today.  If you were to ask almost any teenage girl about Emma Chamberlain, they would be able to tell you who she is. She is so famous in fact that she was invited by Louis Vuitton to walk at the Met Gala.
Emma Chamberlain has helped influence today's fashion, including:
Teddy Jackets-

It's a plush, fuzzy-looking, and super cozy jacket that is usually made out of faux fur. (Sometimes the fur is real, too, but mostly it's synthetics that resemble a teddy bear's fluff.) Emma Chamberlain helped create this trend in 2017, but this trend continues to this day.

Shoelace Belts- Teenagers have begun wearing shoelaces in replacement of real belts; while this wasa trend in the past for skaters, Emma Chamberlain has brought shoelaces belts to mainstream

Emma Chamberlain has helped influence teenagers by wearing her Doc Martens with Manny outfits like shown in this picture. Picture Credits: Emma Chamberlain's Instagram

Doc Martens- Although Doc Martens have been a name brand many years, Emma Chamberlain helped make the shoes for more popular by showing many different ways to wear them

Sweater Vest- One of Emma Chamberlain's biggest trends that she has helped popularize was sweater vests. She helped sweater vests looked from grandpa outfits to trendy and cute outfit.

Emma Chamberlain has been able to put a new spin on sweater vests, which has allowed them to be new upcoming trend. Read Alli Wiggin's blog on business outfits, where she mentions how to dress sweater vests. Photo Credit: Emma Chamberlain's Instagram

Yoga Pants- After Emma Chamberlain wore yoga pants on her Instagram, LuluLemon and other name brand companies began selling out of yoga pants only days after she posted the picture.
There is no denying that Emma Chamberlain can now be described as a fashion icon and will be known for many years for how she has helped shape the fashion industry. 
Senior Madelyn Agostini said, " I have been watching Emma Chamberlain since middle school and I love her style. I find myself finding lots of inspiration in Emma Chamberlain's outfits when I am finding my whole style." 
Senior Emma Martin is shown wearing a sweater vest that has "Hello" stitched on to it all over in red, this sweater vest that can be found at Urban Outfitters. With Emma Chamberlain's help in making sweater vests more popular, many name brand brands have started selling more sweater vests, including places like Urban Outfitters, Brandy Melville, and Pacsun.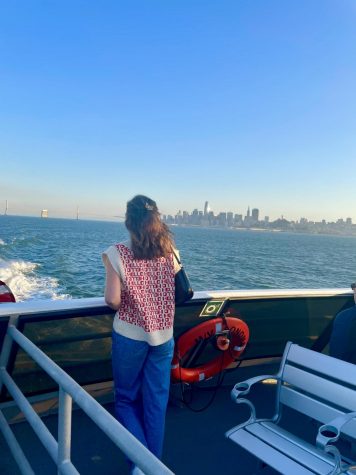 Overall, you  can truly  make a connection between Paris Hilton and Emma Chamberlain and how they have made a major impact on trends and fashion as a whole.