Milton Squashes the Hornets In Big Rivalry Game
As the football season concludes, the Hornets faced their biggest rival for the last home game of the year. Students came dressed in all black with a blackout theme to cheer on the Hornets against Milton on Friday, October 22 2021. 
Hornets opening riles up the crowd threw the traditional four toss. The hornets enter the field and move toward the 50-yard line to meet the Milton Eagles. 
First Quarter 
Hornets get first down, making their way to the 30-yard line. With six minutes to go, Milton scores the first touchdown making score Eagles 6, Hornets 0. Milton scores their extra point-making score of 7-0. Milton kicked off toward the hornets. Roswell had the ball on their 29-yard line; however, Roswell fumbled to Milton at the ten-yard line. 
With under a minute on the clock, Nykahi Davenport (10) scores Roswell's first touchdown with a nine-yard rushing making a score of 7-6. Roswell made a point after now tying the score to 7-7.  
End of first-quarter score tied 7-7 
Second Quarter  
With the crowd's anticipation ever-growing from both sides, Eagle Jordan McDonald #5 scored a second touchdown with a one-yard rushing, scoring now 13-7 following an extra point with the score to 14-7.  
Milton kicks off to Roswell; Roswell now has the ball on their 30-yard line. Roswell now kicked to Milton, and Milton has the ball on Roswell's 33-yard line causing Milton to score a seven-yard pass completed for a touchdown. Milton 22, Roswell 7. Milton scores a point after 23-7.  
When hornets were starting to give up, Christopher Elko (11) scored a touchdown with under a minute left, now scoring 23-12.  
End of second-quarter score 23-13 
Milton's Half time: 
The halftime show started with Milton's marching band playing "Bohemian Rhapsody" by Queen. They set up a sign stating on the right side, "Is this just fantasy," and on the left side, "No escape from reality." The marching band faced Milton, seated on the visitor side of the stadium (across from the central area of seating.) 
Roswell's Half time: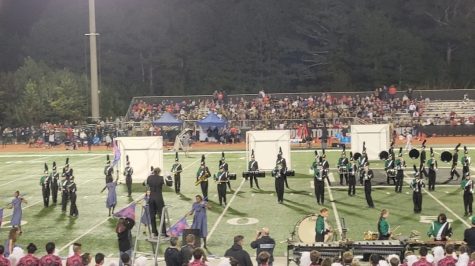 After Milton's ten min Roswell's Marching band and Color guard faced toward the Main Stadium seating and performed, 
"Somebody that I used to know" by Gotye

 
"Time is running out" by Muse

 
"Nothing's gonna stop us now" by starship

 
After their performance, they quickly took everything down and awaited the third quarter. 
Third-quarter 
Starting off the third quarter, Roswell Kicked to Milton, causing them to have the ball on Roswell's 40-yard line. Not shortly after, Milton again scores a touchdown and successfully makes the field goal rounding score up to 30-13.  
Milton seamlessly scored a 4-yard pass completed for a touchdown and completed a field, bringing the score to 37-13. 
End of third-quarter score 37-13 
Fourth-quarter 
When it was not turning out as hornets had hoped, suddenly Roswell scores a touchdown, including a field goal racking up the score to 30-19. However, shortly after, Milton scored and touchdown following a field goal changing to 44-19. 
After that, Hornet refused to give up and scored another touchdown and field goal, now 44-26. With twenty seconds left on the clock, Zeke Moore scores yet another touchdown along with another field goal, making the final score 44-34. 
As a final score, Roswell lost to Milton 34-44. However, Roswell still has a chance for a comeback this Friday, October 29, 2021, at Alpharetta high school. 
For further information about the football team, click here. 
Head Coach and Team Reflect 
In an interview with Coach Prewett, he reflected on the Milton game. 
JS: How did you feel the team could have done better during the game? 
Coach Prewett: Honestly, winning is the easy part of football, but losing games forces our players and coaches to look back at each detail and see what we need to do to prepare better for the next opponent. I believe we had good preparation for the Milton game, but we probably did not respond quickly enough once we got down by a few scores in the game. As long as we are successful in our preparation and have a good mentality going into this week's game, I believe we will be successful on Friday night. 
JS: How does the team plan to improve for the upcoming Alpharetta game? 
Coach Prewett: We talked about playing consistently throughout the season, and we will continue to preach that this week to prepare. Alpharetta is a talented team and will have our full attention. Our goal remains the same each week, go 1-0 and out our sole focus on beating Alpharetta, and the rest will take care of itself. I cannot wait to get to Friday, see all the students at the game, and have our fantastic fan support like we have had all season long. 
In interview with Ethan Nation a tight end, he reflected on the teams actions. 
JS: How did you feel the team could have done better during the Milton game? 
Ethan Nation: Cutting down our mistakes and being more disciplined. 
JS: How will the team improve for the upcoming Alpharetta game? 
Ethan Nation: Trusting our coaches and going out Friday and excuse in an crazy environment. 
Hopefully, the Hornets will keep up the excellent work to make the state regionals.